How To Use Affirmations To Effectively Change Your Life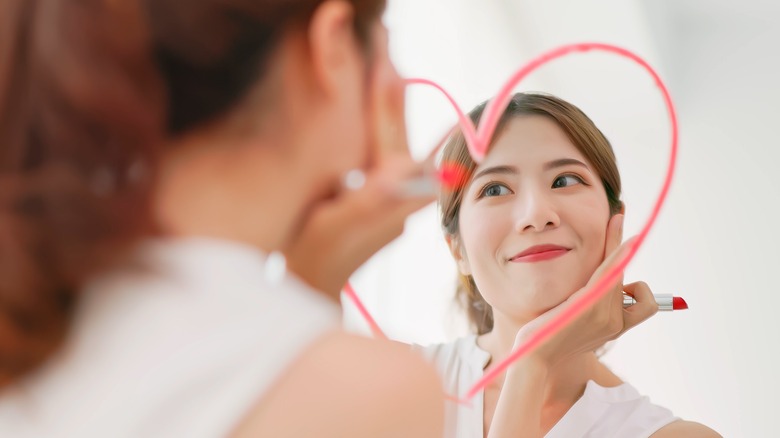 aslysun/Shutterstock
If you are like most people, you know that negative self-talk can be a toxic silent partner as you move through life. After all, life can be difficult, and we often look to ourselves for blame when it comes to any setbacks we may have. So, how can we break out of a vicious cycle of negative self talk? 
Scientists say the answer is positive affirmations. Headway Clinic defines positive affirmations as "specific statements which help you overcome negative thoughts. They encourage you to visualize and believe a statement to make positive changes in your life." In 2022, there has been a push to slow down and add more mindfulness to our routines, and giving self-affirming mantras to ourselves is another form of self-love (via PopSugar). Although it may not be natural at first, there has never been a better time to manifest the kind of lives we want for ourselves.
Positive affirmations pave the road to happiness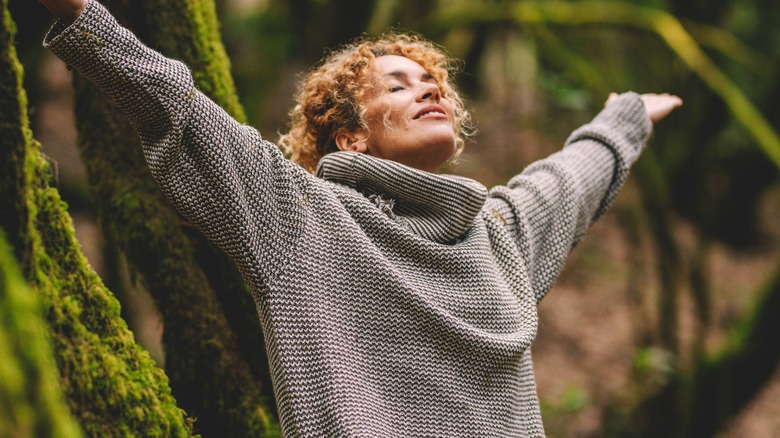 simona pilolla 2/Shutterstock
We've all heard the phrase, "You'll never speak to anyone as much as you speak to yourself, so be kind." This is definitely easier said than done, but if you're not already practicing positive affirmations, experts say you should replace your negative thoughts about yourself with positive, intentional words. According to Happier Human, our negative thoughts can manifest in actions that reflect this thought process. This form of self-sabotage is harmful not only to our mindset but also to our personal well-being. 
Positive self-talk can improve your mood; therefore, it can also improve something as important as your cardiovascular health (via Headway Clinic). Harvard Health further states that people with a positive outlook or "glass half-full" avoid the damaging stress response of a high heart rate and high blood pressure from which negative thinkers often suffer. The mind is a powerful tool for living a happier and healthier life. The challenge is often finding the time to schedule new routines in our lives.
Ways to incorporate positive affirmations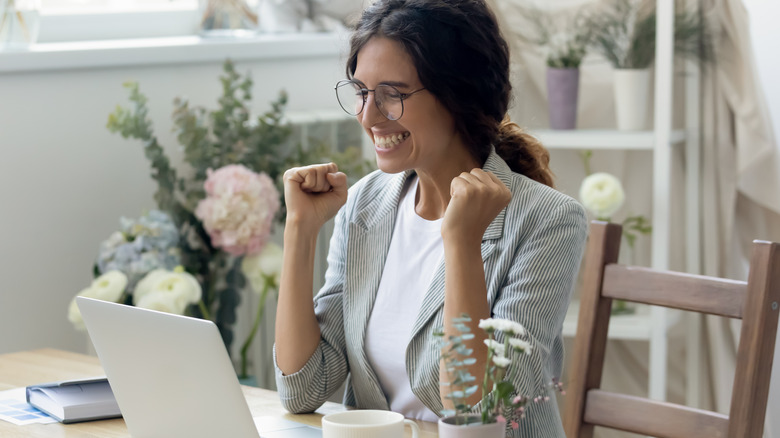 fizkes/Shutterstock
If you're tired of living a stagnant life of negativity, there are many easy ways to incorporate affirmations. For instance, The Daily Shifts interviewed self-love coach Freedom Rivera, who recommends journaling to manifest desires. If writing in a journal doesn't work for you, she goes on to suggest that setting an alarm with different affirmations is effective. However, you may want to avoid the default morning alarm clock ring tone.
In addition to journaling and alarm setting, there are apps and websites dedicated to affirmations depending on what you're trying to manifest in your life. The Daily Positive has lists of affirmations for health and healing, relationships, and success at work. Meanwhile, Happier Human recommends apps such as Thinkup Positive Affirmations, Shine, and Kwippy. In addition to those resources, you can read powerful books such as "You Are a Badass" by Jen Sincero and "Untamed" by Glennon Doyle to shift your thinking into a more positive place.
There is no doubt that setting intentions and mindfully believing we can achieve our goals are effective first steps in the practice of positive affirmations. It can feel a little silly at first, but our thoughts become our words, our words become our actions, and when it comes to our health and happiness, a positive and meaningful life can become our reality.