Are Facial Exercises Really Effective?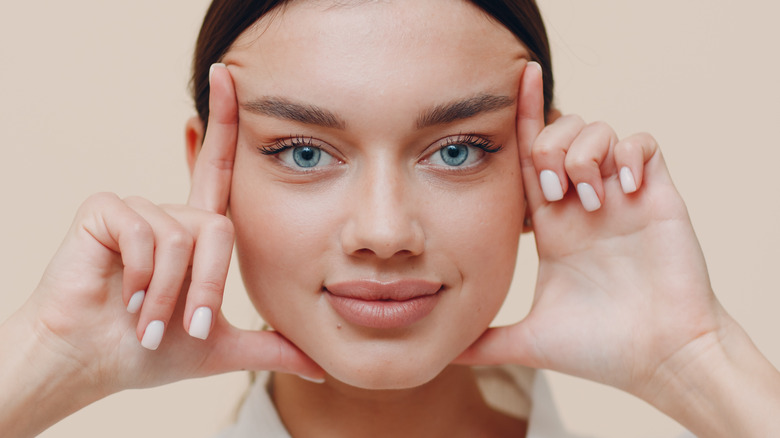 Max4e Photo/Shutterstock
We may receive a commission on purchases made from links.
When it comes to forging a healthy lifestyle, a physical fitness regimen is indispensable. From high-impact sports activities to five-minute cardio workouts at home, there are many ways to exercise your muscles and keep fit these days. Given all the effort you put in toning your abs, legs, and arms, don't you think your face deserves some muscle-flexing too? If you do, you might want to incorporate facial exercise, commonly known as face yoga, into your workout routine.
According to Foreo, your face and neck are home to over 57 muscles that require regular high-rep movements to look toned and elastic. If you go to YouTube or TikTok, you'll find tons of videos touting tips on sculpting muscles from the neck up through massaging your cheeks from inside your mouth or stretching your neck repetitively. Facial exercises can aid in soothing tension, contouring your face line, and slowing down the aging process, says medical aesthetician Candace Marino (via Well + Good).
Compared to invasive treatments such as Botox and filler, face yoga sounds like a safer and cheaper way to keep your face healthy and young-looking. But can facial exercises really give you a maintenance-free facelift? Here's what to expect after giving face yoga a spot in your daily self-care routine.
Facial exercises can improve your complexion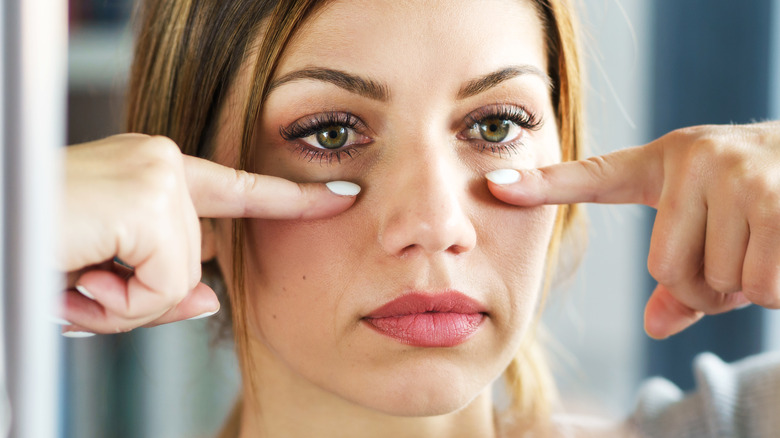 Miljan Zivkovic/Shutterstock
The truth is that there is limited clinical research on the impact of facial exercises on a person's face. However, some experiments have shown visible improvements in the appearance of participants who tried facial exercise consistently. For instance, a study published in JAMA Dermatology showed that women between the ages of 40 and 65 saw fuller upper and lower cheeks after trying a 30-minute daily facial workout regimen over the course of 20 weeks. The participants also looked three years younger, the report noted.
"The exercises enlarge and strengthen the facial muscles, so the face becomes firmer and more toned," said lead author Dr. Murad Alam, a professor of dermatology and dermatologist at Northwestern Medicine.
Some practitioners of face yoga have reported desirable results such as youthful skin, blooming cheeks, and a toned face. "I realized I had a different glow after every workout and I loved that feeling," said "Face Fitness" author Patricia San Pedro (via The Zoe Report).
As effective as face yoga has proved for some people, it's not a foolproof roadmap to aging youthfully.
Facial exercises are not a one-fit-all solution for better skin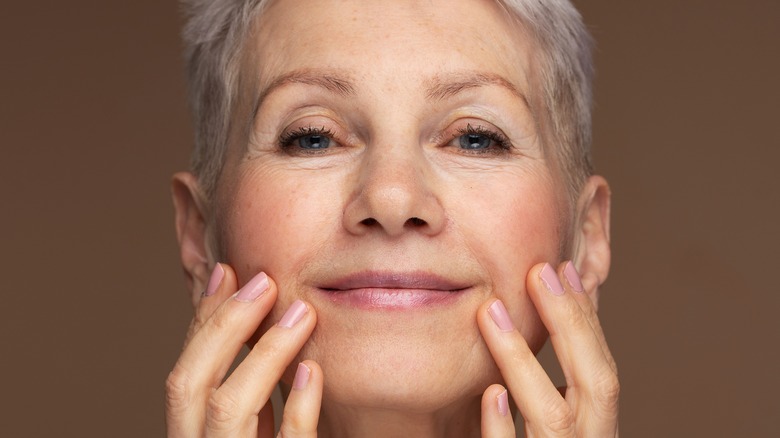 Raisa Kanareva/Shutterstock
Facial exercises won't help with wrinkle removal, according to Dr. Jeffrey Spiegel, chief of facial plastic and reconstructive surgery at the Boston University School of Medicine (via Healthline). Many of our facial wrinkles, such as laugh lines, crow's feet, and forehead stretches, come from using extra facial muscles, Spiegel explains.
Taxing facial workouts might lead to the development of even more wrinkles, Dr. Gary Goldenberg, M.D., medical director of the Dermatology Faculty Practice at the Icahn School of Medicine at Mount Sinai, told Self. Besides, if you have skin conditions such as acne, eczema, psoriasis, or an open wound on your face, you should consult a medical professional before trying facial exercises, per Insider.
So, are facial exercises really effective? They are, depending on what you're after. If your goal is to have a glowing complexion, softer skin, and a slimmer face, facial exercises might help you — if you can stick to them. In case your chief priority is to get rid of wrinkles or make them less noticeable, you might also want to add sunscreen, moisturizer, and a visit to a facial plastic surgeon.