What You Need To Know Before Using Magnetic Eyeliner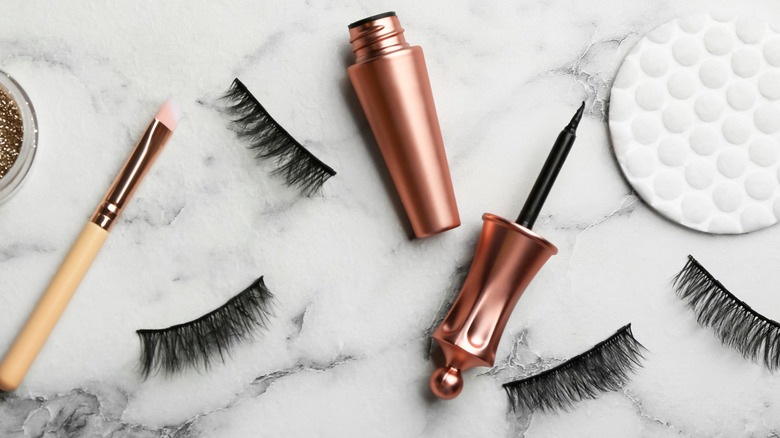 New Africa/Shutterstock
We love using eyeliner to complement our eyes and make them pop. While we enjoy using a classic black liner for elegant drama, we also like exploring all the hottest eyeliner trends such as the super-easy kitten eyeliner trend, lining our lower lashes, and incorporating white eyeliner into our beauty routines (via Marie Claire).
Another buzz-worthy eyeliner trend is magnetic eyeliner. So, what exactly is it? According to Healthline, this innovative type of eyeliner actually features tiny magnetic details for faux eyelashes to latch onto so that you won't have to use eyelash glue anymore. It's getting plenty of attention, too, as over 64,000 posts popped up on Instagram when we searched #magneticeyeliner.
The idea of eyeliner with magnets probably sounds strange and daunting to anyone who's only used traditional pencil and liquid liners and glue-on false lashes. Considering how this modern eyeliner technique seems relatively high-tech, we wanted to find out if it's safe.
It should be safe as long as you're careful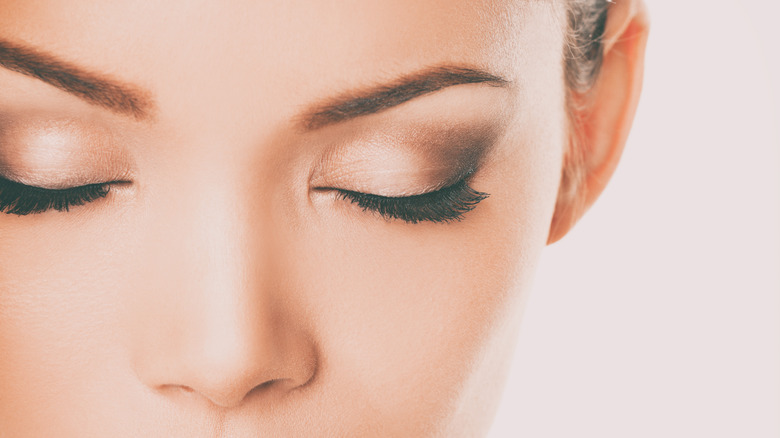 Maridav/Shutterstock
Believe it or not, the magnetic eyeliners' liquid formats should be safe for you to use, per Healthline. However, bacteria can emerge if you aren't diligent about throwing it out and getting a new one after three months, so it's crucial to stay on top of how long you've been using it. If you struggle to remember how long you've been using your magnetic eyeliner, we recommend writing the first day you start using it in your planner or calendar and counting three months later to write a note to remind yourself when it's time for a replacement; no one wants a lash line full of bacteria! Plus, Healthline notes that you need to be careful when putting this product on your face. Be sure to avoid getting it in your eyes!
One of the advantages of using a magnetic eyeliner is that putting on this type of liner is less time-consuming than it would be to do the whole traditional process of applying a non-magnetic eyeliner and then gluing on false lashes (via Mademoiselle Lash). Furthermore, magnetic eyeliners typically aren't too challenging to use, so you shouldn't stress about that. However, while magnetic eyeliners seem safe, there's still the chance of having an unpleasant reaction to the product, so you should keep that possibility in the back of your head before using it.
Check out these magnetic eyeliners
If you're ready to give this trend a chance and invest in a magnetic eyeliner, we did some research to help you find the best options to explore. To start, the Magnetic Liquid Eyeliner is available at MoxieLash for $55. While this may initially seem like a high price tag if you're used to buying pencil liners or non-magnetic liquid liners, this product dries in only three minutes, won't smudge, and is waterproof. Plus, it has a glowing review of 4.7 stars with over 13,000 ratings.
Or, if you want a more affordable option in a kit format, you should look into the Kiss Magnetic Eyeliner & Lash Kit, available at Ulta for below $20. This kit comes with magnetic eyeliner and magnetic lashes and has an impressive rating of 4.2 stars. Moreover, another affordable magnetic eyeliner is the Kiss Lashes Magnetic Eyeliner, which is made in the U.S. and sells at JCPenny for below $10.