Can You Wear Red To A Wedding?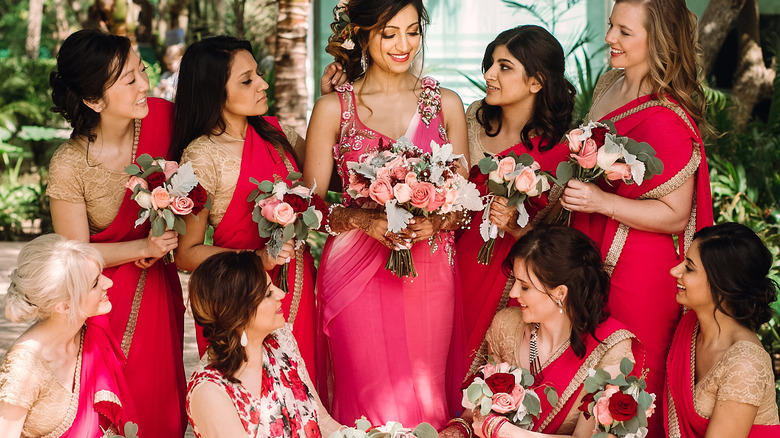 IVASHstudio/Shutterstock
Summer is here, and so are weddings. With the nuptial season in full swing, invitations must have been rolling in for many of you. You're probably even wrecking your wardrobe to find the best outfits for the summer weddings ahead at the time of reading this article. When it comes to picking the right wedding guest attires, there are many dos and don'ts. Weddings are a great excuse to don a fancy new look, but try not to overdo it with excessive accessories or skimpy outfits with see-through fabrics, stylist Ani Hovhannisyan told WeddingWire. The rule of thumb is to keep fancy details to a minimum and never upstage the bride. For instance, the greatest sin you can probably commit as a wedding guest is to wear white, says luxury wedding planners Emma Zamani-Hawke and Sam Hughes (via Hello! Magazine).
Since white is off-limits, how about a bolder color that flatters your sun-kissed skin — like red? The textbook answer is yes, because it's neither white nor black, a color traditionally reserved for mourning occasions. Although wearing flashy red definitely adds a spark of joy to the atmosphere, there might be mixed reactions to it. In case you're eyeing a red dress for an upcoming wedding, here are some faux pas and expectations you need to keep in mind.
You might want to avoid eye-catching shades like red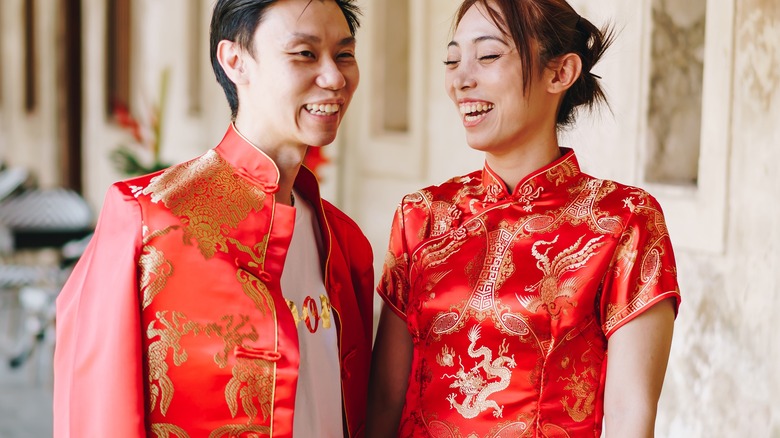 gowithstock/Shutterstock
Before planning your wedding guest outfit, take a cue from the dress code noted in your invitation. While many to-be-weds expect their guests to arrive in black-tie or formal attire, some might prefer to go with a more laid-back theme. Whatever you choose, make sure that you stick to the dress code. 
In a similar vein, you should find out in advance what the bride, the groom, and the bridesmaids will be wearing. Not all brides wear white, nor do all grooms don black at their wedding. And knowing what color the bridesmaids will be wearing helps you avoid wearing a matching color and being mistaken for one. 
Many couples, especially those in Asian cultures such as China and India, wear a striking red. In that case, steer clear of any shades of red in your closet. To make sure you're not ruining anyone's mood on their big day, as explained by Yeah Weddings, you should also factor in the color preferences of the brides or grooms. 
According to blogger Cerriously, glamorous red is an inappropriate choice of outfit color for a wedding guest. In the same way that red cars tend to get the most attention (and perhaps speeding tickets), a red outfit will make you stand out immediately. It's not as directly competitive as white, but it might be seen as your attempt to outshine the bride. As you wear red, you might be perceived as an attention-seeking guest trying to steal someone's thunder on their special day.
With that being said, red is not an unacceptable color for a wedding guest to wear, as long as it's not controversial.
Red is risky, but far from forbidden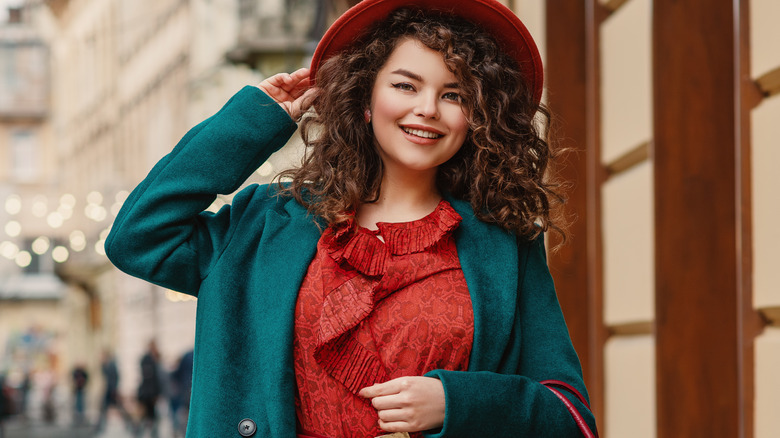 Victoria Chudinova/Shutterstock
"Like with black, I think the rules have essentially faded away when it comes to red," PopSugar fashion editor Laura Lajiness told Who What Wear. "So long as the silhouette is elegant, I think it's okay for wedding guests to give the hue a go."
Meredith Stoeklein, the founder of bridal label LEIN, advocated for wearing red to a wedding because it symbolizes love and passion and has an extensive palette. According to Dress for the Wedding, red attire for a wedding guest should ideally have a muted shade and elegant undertones such as burgundy, berry, or rust. Accompanied by a minimal and tasteful silhouette, your ensemble is wedding-appropriate. The last thing you want to be seen in is flashy full-blown red.
Ultimately, context is key. Before planning any wedding guest outfits, you should pay attention to the dress code and take into account any cultural elements. If you want to go ahead with a red outfit, we recommend that you choose a darker shade as opposed to a vibrant one. Or you can pair it with a fashion item of a different color, as it will be much less distracting than an all-red getup. Since red comes with risks, make sure you pick an outfit that you can wear with confidence.